MSI GeForce GTX1080Ti Sea Hawk EK X 11GB GDDR5X 352 Bit Ekran Kartı
Stokta yok
Karşılaştır
Açıklama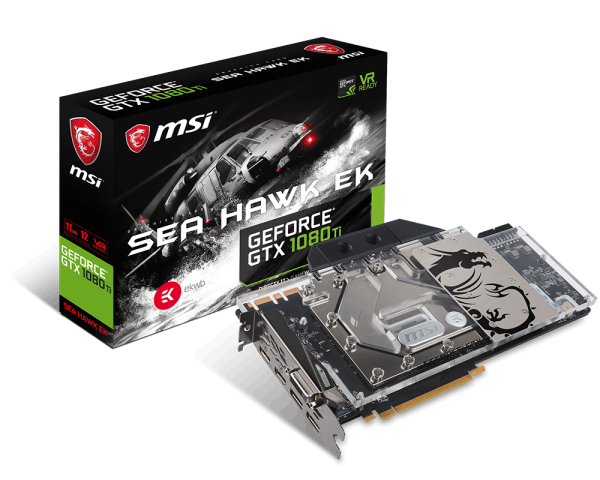 Core/Memory
Boost Clock / Base Clock / Memory Frequency
1683 MHz / 1569 MHz / 11124 MHz (OC Mode)
1657 MHz / 1544 MHz / 11016 MHz (Gaming Mode)
1582 MHz / 1480 MHz / 11016 MHz (Silent Mode)
11GB GDDR5X
Supreme Liquid Cooling
High Performance Full Cover Water Block: Central inlet split flow cooling engine design delivers the best cooling performance.
Nickel-plated Base prevents corrosion and increases wear resistance for lasting performance.
Premium matte backplate featuring the famous MSI GAMING dragon.
Gaming App
Instant Performance Gain: Unlock extra performance or keep your card silent during light use in one click.
One Click To VR: A single click by setting all key components to high performance settings.
Afterburner Overclocking Utility
Wireless control through mobile devices.
Predator: In-game video recording.
Supports multi-GPU setups.
THE ULTIMATE PC GAMING PLATFORM
Get Game Ready with GeForce® GTX.
GeForce GTX graphics cards are the most advanced ever created. Discover unprecedented performance, power efficiency, and next-generation gaming experiences.
VR READY
Discover next-generation VR performance, the lowest latency, and plug-and-play compatibility with leading headsets—driven by NVIDIA VRWorks™ technologies. VR audio, physics, and haptics let you hear and feel every moment.
THE LATEST GAMING TECHNOLOGIES
Pascal is built to meet the demands of next generation displays, including VR, ultra-high-resolution, and multiple monitors. It features NVIDIA GameWorks™ technologies for extremely smooth gameplay and cinematic experiences. Plus, it includes revolutionary new 360-degree image capture.
PERFORMANCE
Pascal-powered graphics cards give you superior performance and power efficiency, built using ultra-fast FinFET and supporting DirectX™ 12 features to deliver the fastest, smoothest, most power-efficient gaming experiences.
MSI SEA HAWK EK is the product of a revolutionary partnership, combining MSI's top-notch graphics card engineering with the popular EK water block. The result is one of the coolest and most silent graphics cards available on the market.
HIGH PERFORMANCE FULL COVER WATERBLOCK
Central inlet split flow cooling engine design delivers the best cooling performance for liquid cooling systems, even when using less powerful water pumps.
TRUE FULL COVER WATERBLOCK
The liquid flow patch covers all critical components like GPU, memory and PWM as well as other critical components; this results in superior thermal performance.
NICKEL-PLATED BASE
At the heart of the SEA HAWK EK is a nickel-plated copper base. Copper has the best thermal performance and the nickel layer prevents corrosion and increases wear resistance for lasting performance.
BACKPLATE
WITH RGB MYSTIC LIGHT
A powerful graphics card needs a strong build to harness its performance. MSI SEA HAWK EK X graphics cards are fitted with a solid metal back plate to make it extra tough. The backplate on MSI SEA HAWK EK X graphics cards feature a premium RGB Mystic Light shield which can be controlled in the MSI Gaming App.
MULTI GPU
Gaming enthusiasts are always looking for more performance to get the ultimate experience. Using multiple graphics cards in SLI or Crossfire is a great way to find out just how good it gets. MSI SEA HAWK EK X graphics cards fully support multi GPU technologies.
* Possibilities may vary depending on what is supported per model.
THE FUTURE OF GAMING
The smoothest, fastest and most exciting gaming experience ever by eliminating screen tearing, display shutter and input lag.
Ultra-high resolution (UHD) delivers 4x the resolution of 1080p content, enabling much sharper and crisper images with delicate details during gaming.
PREPARE FOR VR WITH MSI
To experience and enjoy the impressive world of Virtual Reality, high-performance hardware is required. MSI, world leading brand in high-end gaming and eSports, provides the right advice to make sure your system is VR Ready. Integrating the very best of cutting edge technologies in recommended MSI VR gaming hardware for smooth performance. Together with our VR partners, MSI brings gamers an extremely realistic VR experience where games come alive.
ONE CLICK TO VR
WITH GAMING APP
To get the best VR experience, you need your PC to deliver maximum performance. The MSI Gaming App gets your PC primed for VR use in just a single click by setting all key components to high performance settings and making sure other software applications do not impact your VR adventure.
GAMING APP
The MSI Gaming App allows for one-click performance profiles that unlock extra performance for gaming or keep your card silent during light use. It also features the EyeRest tab, giving you easy access to image quality improving technology. The LED control tab gives you full control over your MSI GAMING LED lights to set the mood.
OC Mode
Maximum Performance through higher clock speeds and increased fan performance
Gaming Mode
The best balance between in-game performance and silence
ON-SCREEN SPEED & TEMPERATURES
Real-time monitoring of GPU Core, DRAM Frequency, GPU & CPU Temperatures and much more, in game or in other fullscreen applications, customizable to your preference.
A DIFFERENT VIEW ON GAMING
MSI Dragon Eye allows you to watch a YouTube video or Twitch Stream while playing a game simultaneously. Simply add a link or stream to the Dragon Eye application and select the size, position, volume and transparency and start gaming. With a few hotkeys you can start/pause your video or set the volume.
AFTERBURNER
MSI Afterburner is the world's most recognized and widely used graphics card overclocking utility which gives you full control of your graphics cards. It also provides an incredibly detailed overview of your hardware and comes with some additional features such as customizing fan profiles, benchmarking and video recording.

© NVIDIA Corporation. All Rights Reserved. NVIDIA, the NVIDIA logo, GeForce, GeForce Experience, G-SYNC, NVIDIA GPU Boost, and NVLink are registered trademarks and/or trademarks of NVIDIA Corporation in the United States and other countries. All other trademarks and copyright are the property of their respective owners.
All images and descriptions are for illustrative purposes only. Visual representation of the products may not be perfectly accurate. Product specification, functions and appearance may vary by models and differ from country to country . All specifications are subject to change without notice. Please consult the product specifications page for full details.Although we endeavor to present the most precise and comprehensive information at the time of publication, a small number of items may contain typography or photography errors. Products may not be available in all markets. We recommend you to check with your local supplier for exact offers.
Sadece bu ürünü satın almış olan müşteriler yorum yapabilir.